About Us
Sandhya Spinning Mill Limited established in the year 1994, today produces 7 million kgs of yarn per year, employs more than 950 workers and has a turnover of over Rs. 1930 million. SSML has a well modernized spinning unit at Rajapalaiyam, Tamilnadu and Gopinenipalem Village, Vadsavai Mandal, Krishna Dist, Andhra Pradesh, with an installed capacity of 57,552 spindles (including 46,320 compact spinning spindles and 5,232 Slub Yarn Spindles). We are also having 1024 Rotors in Rajapalayam and 1440 Rotors in Andhra Pradesh. The Mill traditionally makes quality counts from 12's to 140's. Presently with added capacity we produce value added yarn like compact yarn in singles and doubles.
We believe that stable quality of raw material is the key to stable quality of product, our commitment to achieve excellence in quality has led us to pick the best of raw-material for input. By virtue of experience and due to the founders' relentless efforts, SSML has been earning good profit and growing as one of the best in cotton yarn spinning in South India.
Our products have greatly been accepted in the overseas markets also and we export 60% of our spinning capacity to the high quality conscious markets like Japan, Germany, Italy, Czech Republic, Madagascar and Bangladesh. The accolades we have received from clients are the tribute to the quality and consistency of our management services.
With best quality products and guidance received from our group's Chairman Shri. P.R. Ramasubrahmaneya Rajha we continue to grow and improve further.
The company has also installed 10.95 MW Wind Turbine generators to save the power cost substantially. The windmill capacity will take care of nearly 70% of the total power requirements of the mills after expansion.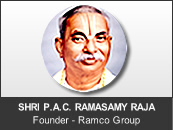 Registered Office:
Sandhya Spinning Mill Limited,
No. 47, P.S.K. Nagar,
Rajapalayam – 626 108.
Phone: + 91 - 4563 - 235009
E-mail: sandhya@ramcotex.com